Saint Red: The Audio Version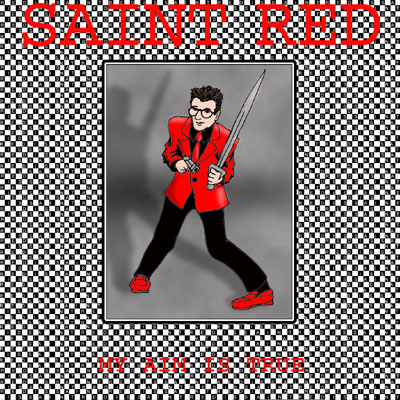 By Jordan D. White
Welcome to the audio version of Saint Red, my serial tale of Red Cain, an ordinary guy who becomes a Saint... sort of a holy secret agent.
Saint Red was originally just a prose serial adventure (which can be read here) but once I began Wax-work Radio, I decided to try to bring Red and company to life. It is essentially an audiobook with cast, rather than a genuine radio adaptaion- meaning it mostly is the prose read aloud, except whenever different characters speak, different actors play them.
Right now, there are two series of Saint Red audio (both availiable below), corresponding with the two books of prose written. If, at some point in the future, I write a third book, an audio version may follow. For now, however, Saint Red is on indefinite hiatus.
All episodes are in mp3 format, at 128 kbps.
*A note about music- aside from the theme song, these tracks are presented without music. When played over the air, I tend to play movie soundtracks in the background, to enhance the mood. That music was, of course, owned by someone else. Feel free to experiment with your own background music! In addition, I would always follow each episode with the correspondingly titled song by Elvis Costello.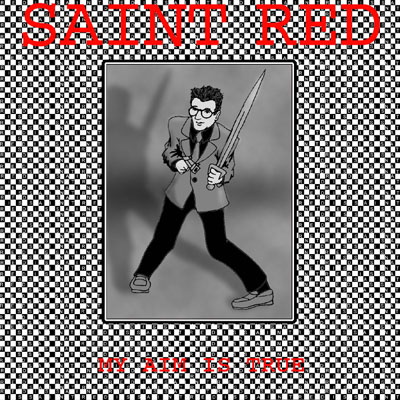 Red Cain was a normal man with perhaps a little less going on in his life than your average guy, but when the corporation DI&R, Divine Interventions & Retributions, chooses him as their new Saint, his life will never be the same. He becomes a sort of Holy Secret Agent, with a blessed gun and sword that can harm no living thing, but can cut through anything else. He gets sent out on a simple mission to investigate Father David Partick, but that simple mission spirals into a roller coaster of adventure, frogs, pedophelia, suicide, doomsday plans, manipulation, and mistaken identity. Who is on Red's side? Who is against him? Nothing is as it seems in this amazing tale.
Episode 1 - Welcome to the Working Week
Episode 2 - Miracle Man
Episode 3 - No Dancing
Episode 4 - Blame It On Cain
Episode 5 - Alison
Episode 6 - Sneaky Feelings
Episode 7 - (The Angels Wanna Wear My) Red Shoes
Episode 8 - Less Than Zero
Episode 9 - Mystery Dance
Episode 10 - Pay It Back
Episode 11 - I'm Not Angry
Episode 12 - Waiting for the End of the World
Episode 13 - Watching the Detectives
CAST:
Jordan D. White - Narrator, Red
Devon White - Alison
Daniel Schwartz - Argento, Man, William, Guard 5
Scott Fynboe - Father Patrick
Rich Bellin - Hayden, Henchman, Scott Charles
Aaron Barse - Businessman, Simon, McWorker2, Lenny
Lyn Nelson - Kimmy
Nicholas Roach - Joshua, Mr. Innes, Loudspeaker
Angela Timon - Georgie, McWorker1, Mrs. Innes, Guard 2
Kate Slotwinski - Crowd, Guard1, Guard4, Blonde
Sam Thomasson - Crowd, Man, Trooper
Magdalena Richards - Woman, EMT
Guenevere Eckert - Guard3
Jen Piper - Crowd
Recorded, Engineered, & Produced (kind of) By
Jordan D. White
Theme Song By
Jordan D. White
Recorded Live on the Air on WHRW Binghamton, Fall 2004.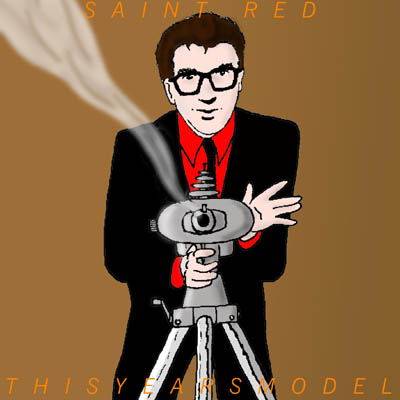 Red Cain, having escaped the clutches of DI&R, has been enjoying a fairly normal life with Alison, his girlfriend back in their hometown, but when Argento shows up to warn them that a new Saint is in town, Red is launched back into the world of bizarre adventure that he'd tried so hard to leave behind. Someone has it out for electronics products in the town, but can Red figure out what's going on in time when he has to do battle with another Saint, a giant robot, flying terrorists, and the entire American corporate system? Mind control, destructive mobs, telemarketing, a future distopia, spyware, lots of brutal action, and a peek into Red's past await! Take This Year's Model for a spin!
Episode 1 - No Action
Episode 2 - This Year's Girl
Episode 3 - The Beat
Episode 4 - Pump It Up
Episode 5 - Little Triggers
Episode 6 - You Belong to Me
Episode 7 - Hand in Hand
Episode 8 - (I Don't Want To Go To) Chelsea
Episode 9 - Lip Service
Episode 10 - Living in Paradise
Episode 11 - Lipstick Vogue
Episode 12 - Night Rally
Episode 13 - Radio, Radio

CAST:
Jordan D. White - Narrator, Red, Kent
Devon White - Alison, Woman
Daniel Schwartz - Argento, Katz, Frat2, Manager, Worker3
Angela Timon - Chelsea, Worker2
Sam Thomasson - Orloske, Recording, Someone, Mr. Davis
Scott Fynboe - Tim, Bartender
Lyn Nelson - Yellow, Girl, Sandy, Police, Harris
Magdalena Richards - Girl, Gina, Soccer Mom, Supervisor
Rich Bellin - Madman, Officer1, Worker
Aaron Barse - Frat3, Manager, Caller, Worker1, Fredericks, Howell, Officer2
Deric McNish - Frat1, Guy
Nicholas Roach - Paramedic
and Frank Allen as the Radio Announcer
Recorded, Engineered, & Produced (kind of) By
Jordan D. White
Theme Song By
Jordan D. White
Recorded Live on the Air on WHRW Binghamton, Spring 2005.
Saint Red Theme - by Jordan D. White
I am pretty sure I whipped this together the day we were to perform the first episode of Saint Red, although I am not positive on that. It was a tune I'd had in mind for a while, but I tried to give it an Elvis Costello & the Attractions feel.

Series 2, Episode 3.5 - Burger Break (the stupid joke episode) - I wrote the text of this as an April Fool's episode for the text version, and we recorded it for the fun of it. Chronologically, it goes between episodes 3 and 4 of This Year's Model. It actually works there completely... as a dream sequence.