This is my attempt at what is called a "24-Hour Comic". It was invented by Scott McCloud, and the link above will take you to his page in which he explains what it is, how it came about, and talks about a bunch of the ones that have been made.
The basic gist of it is that you create a 24 page comic from scratch in 24 consecutive hours. This includes writing, penciling, inking, lettering, coloring (if you do it- I didn't)... everything. So basically, you need to do a complete page an hour. I did this one with my pal's Nic Olivieri and J Marks. J did 24 pages in 15 hours, Nic did 18 pages in 24 hours, and I did these 24 in 23.5.
This comic was brought to you by Pleasantville, Being John Malkovich, The Game, Clue, Bowfinger, The Matrix, Seven, South Park: Bigger, Longer, & Uncut, Army of Darkness, Chasing Amy, and A Nightmare on Elm Street- the films we watched as we drew, in that order, as we drew. I'm sure you won't see the influence, but the pages are now inextricably linked with the movies that were on while I made them.
I did the cover later, but that's a 25th page, so I guess that's ok.
I would like to dedicate this comic to my cat, Scape, who we drove insane that day by keeping all the lights on and never sleeping. By the end he was so wired... heh heh.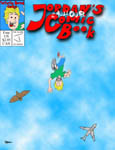 Click here to read "A Falling Out" (24 pgs.)